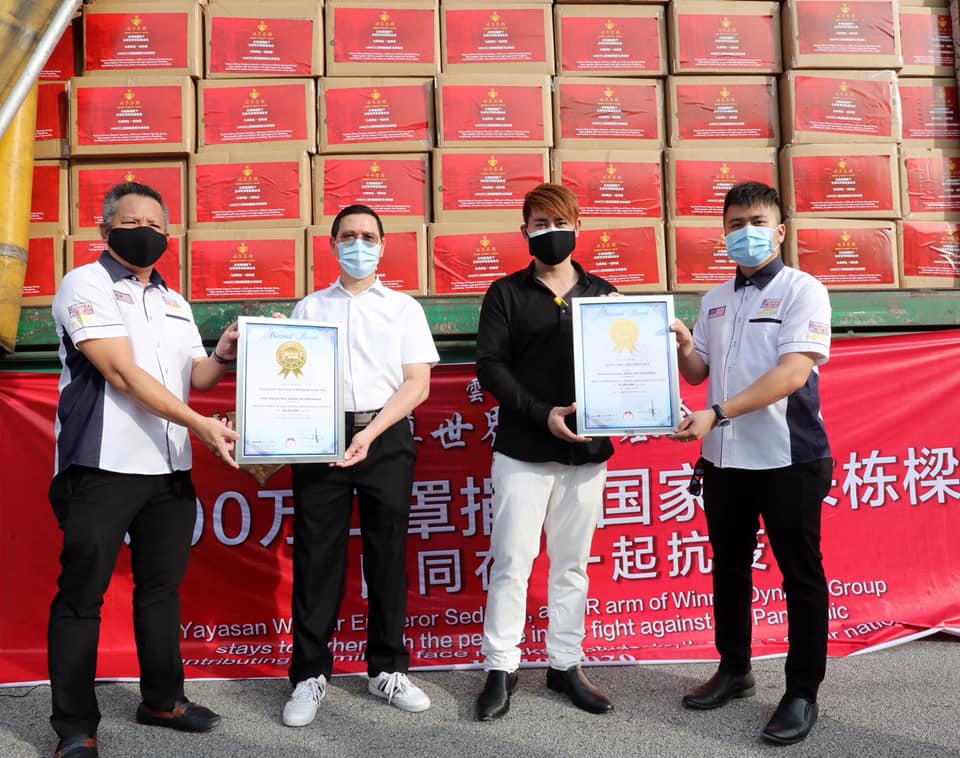 A new record was established on October 2020, for a single donor of face masks when business tycoon Dato Sri Liow Soon Hee donated 10 million face masks to school children.
The 10 million masks were Malaysia's biggest ever contribution by an individual in a direct, on-the-spot donation. Malaysia Book of Records will be asked to ascertain if this record holds regionally or even globally.
"This generous contribution of 10 million face masks is the largest single contribution by a single person and Sin Chew Daily is very grateful to Dato Sri Liow Soon Hee, dubbed 'Malaysia's Youngest Philanthropist' and rightly so as he is only 32.
"Sin Chew Daily hopes more benefactors will come forward to help Malaysians in our hour of need. Covid-19 affects everyone and none is immune, regardless of race, religion, or rank. To this end, Sin chews Daily will donate 5 million masks to Chinese schools and 5 million masks to Malay and Indian vernacular schools so every school kid will benefit regardless of creed."
Says Dato Sri Liow Soon Hee, "I come from a poor family and had to walk to school as we tried to save on bus fares. I remember I had to wrap a handkerchief around my face to protect against the dust caused by lorries or flu/cold outbreaks as masks were way too expensive.
"Even today, a mask costs RM 1 to RM 1.50 which is not cheap as we cannot use one mask repeatedly for a week. I have 3 children so I understand how parents feel, especially those from lower-income brackets.
He notes children are Malaysia's future. "The kids today are Malaysia's leaders tomorrow. They are our greatest assets. I strongly support Sin Chew Daily's "Love Yourself by Wearing Masks" campaign as it is practical yet effective. I hope more Malaysians and corporations will join this worthy effort."
Dato Sri Liow Soon Hee donated the 10 million masks on behalf of Yayasan Winner Emperor Sedunia the Corporate Social Responsibility (CSR) arm of Winner Dynasty Group of which he is Founder and Chairman.