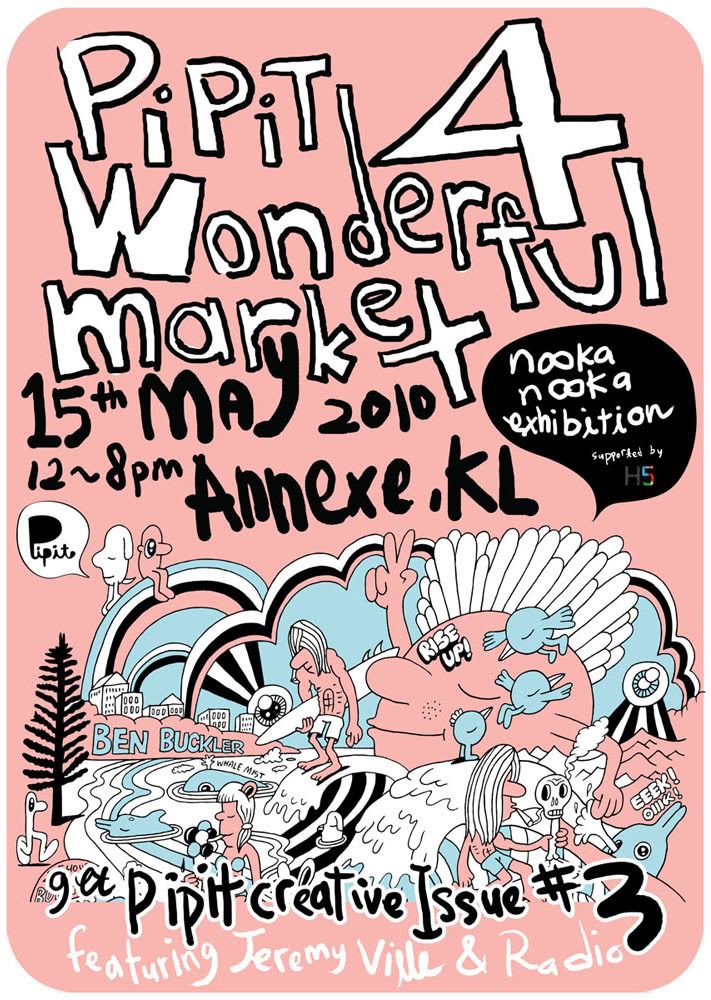 Find all the exclusive ; limited handmade , independent label , art ; craft , t-shirt ; creative items in Pipit Wonderful Market. Support the local handmade artist , independent artist ; designer.
DATE : 15th May 2010
VENUE : Annexe , Central Market , KL
TIME : 12pm ~ 8pm
MORE INFO ; VENDOR LIST
http://www.thepipit.com/viewtopic.php?p=51378#51378
inquiry regarding Pipit Wonderful Market please email : [email protected]lsius.com
---
HIGHLIGHTS
GET PIPIT CREATIVE ISSUE

#3


Don't forget to get a copy of Pipit Creative Issue

#3

at Wonderful Market 4 . Featuring Jeremy Ville from US ; Radio from Malaysia.
more info coming soon.
NOOKA NOOKA ARTIST SERIES EXHIBITION
In-conjunction with H5 , we are going to exhibit all the 20 nooka nooka again in Wonderful Market 4 !! If you missed out the awesome Nooka Nooka artist series exhibition @ Midvalley , come and check it out the outstanding customization by our 20 local talented independent artists.
more info about nooka nooka artist series
http://www.thepipit.com/viewtopic.php?p=51013#51013